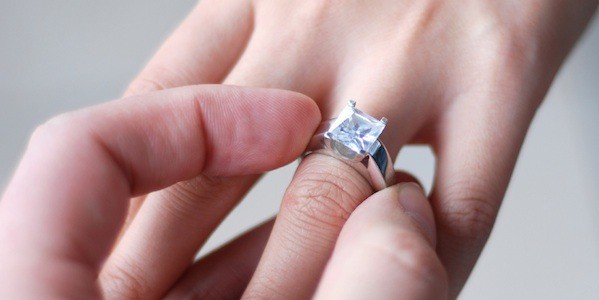 Being in love can be the most mystifying and beautiful experience one encounters in life and that is why the importance of a romantic, memorable marriage proposal becomes very crucial. When the moment comes to pop the life-changing question to the love of your life, you want the experience to be an everlasting one; which lingers in your lover's mind for years to come. Here are some creative, one-of-a-kind ideas you can use to propose marriage to your lady-love and become equivalent to the romantic holly wood hunks she gushes over.
Flower power: We all know how much girls' love flowers and can become all teary eyed and emotional when they receive even a single rose. Imagine the elation she will feel if you propose to her using the concept of flowers. You can enlist the help of a friend for this and write the proposal on a flower bed using petals as words. A garden or a private park is ideal for this or you can even take her to a favorite spot.
Song surprise:
This is a very sweet way to propose and one that she will treasure forever. Take her to her favorite restaurant, preferably one which has a live band and order all her favorite dishes. When you are done with the dinner part, you can then give the signal to the band to play her favorite song and make sure they tell that it has been dedicated to her from you. Just when the song is playing and she is all overwhelmed at the sweet gesture you can take the ring out and get down on your knees to propose.
Morning flavor: If your lady love is fond of reading the newspaper first thing in the morning than this is a wonderful way to make her day a memorable one. You can place a full page add and imagine her surprise when she reads the unique proposal. If you are living together it is even better to pop the question this way and follow it up with her favorite breakfast.
Message in a bottle: This is an innovative and completely unexpected way to propose happily ever-after. You can write your proposal along with a romantic quote or verse and put it inside a bottle of your favorite wine, bury it in a convenient place you frequent and 'accidentally' stumble on it. Act very surprised and inquisitive and let your girlfriend take out the piece of paper. If you don't mind a public proposal you can even take your friends along with you and they can cheer you on.
Vacation package:
If you are planning for a vacation, you can add the prospect of proposing marriage to make it even more special and cherished. You can plan to take her to her favorite place, keep the location a surprise and arrange with the hotel to have your room specially prepared with champagne, chocolate, flowers, with romantic music and propose to her when you reach there. You can alternatively take her out to any enchanting location and pop the question when she least expects it.
There are numerous possible ways to propose marriage but what needs to be kept in mind are your partner's sensibilities and also what makes her feel most special and loved.